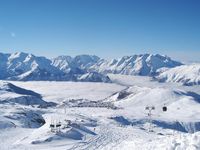 France - A skiing nation with plenty of superlatives! The Mont Blanc is the highest mountain in the Alps, the Vanoise Express the biggest and fastest double floored cable car in the world, and Les 3 Vallées claims to be the largest ski area in the world. Whether you want to ski the glacier in Les 2 Alpes, on the Olympic slopes of Chamrousse, the interconnected ski areas in the region Les Sybelles or in the small but not any less nice ski area as in Valfréjus - in France, you can find whatever you're looking for.


France's ski areas are among the largest in the world. Nordic ski sports fans also benefit from this. The plentiful cross country tracks offer sporting challenges as well as amazing landscapes - a perfect symmetry of sporty exercise and nature enjoyment. Ski along a frozen lake or enjoy the view from the highest mountain in the Alpes, Mont Blanc (4,810 m.). Cross Country Skiers, what more could you want?!

There is a spectacular glacier track in Les 2 Alpes and several chair lifts as well as 9 tracks with a total of over 40 km await the cross country skier in Chamrousse. Ambitious skiers can try out the 9 km long "Astragale" run.
Further information on cross country skiing in Les 2 Alpes and on cross country skiing in Chamrousse.

The areas around SuperDévoluy and La Joue du Loup offer an attractive network of cross country tracks. Here, cross country fun starts at your front door, regardless of whether you are in the Site Nordique or in the rich forests of Plateau de Boucherac. With a total of 80 km of tracks, this region is an exciting destination for cross country skiers of every level.
Further information on cross country skiing in SuperDévoluy and on cross country skiing in La Joue du Loup.

The region surrounding Alpe d'Huez knows how to impress with its cross country tracks in various grades of difficulty. There are a total of 50 km of tracks for your skiing enjoyment. The longest (20 km) and additionally most challenging, is the "Boucle des Lacs". An additional, shorter route is the 10 km Boucle de Poutran.
Further information on cross country skiing in Alpe d'Huez.