Ski holidays in
Bulgaria

: Snow up your life!

Bulgaria has a lot to offer: traditional houses and quaint alleys, rustic taverns with excellent cuisine, as well as modern and action-packed ski areas with guaranteed snow that can be found in the impressive mountain ranges in the country, such as the Rhodope Mountains or the Pirin Mountains. There is something for everyone. A wonderful combination of tradition and modernity await you in Bulgaria.

Regions in Bulgaria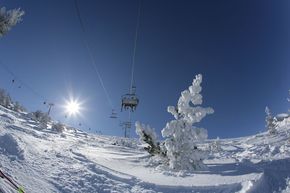 Blagoevgrad
The Blagoevgrad region is found in Bulgaria's south western corner. The imposing Pirin mountains reach up to an altitude of 2,914 m and offer a fantastic view of the surrounding Pirin peaks. With numerous lakes, many waterfalls, hidden caves and peaceful forests, the mountains offer a diverse and unique landscape. Due to this beauty and distinctive features, Pirin is not only the largest and most attractive national park in Bulgaria; rather, it has also been declared a UNESCO world cultural heritage.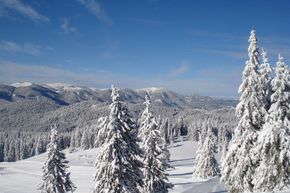 Rhodope Mountains
The Rhodopen are a forested mountain in South Bulgaria. Here you can find oak and maple forests as well as coniferous forests in the higher, western regions. Neighbouring mountains in the north are the Rila mountain, which is the highest in Bulgaria and the Pirin mountain in the south-west. The name Rhodopen means "Area of the red-brown river", as many rivers arise in the Rila mountain, which flow right across the country and finally into the black sea or the Agais. Different nations have settled down in the region, so that you can find a unique culture and various traditions at work.