HOLIDAY REPS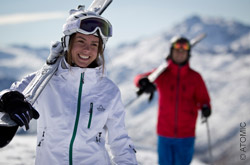 In some resorts, there are English and German-speaking holiday reps available. Your rep will welcome you upon arrival and help sort out the details on the day of arrival and departure. Your rep will let you know when you can move into your accommodation, and advise you as to when and where ski lessons are held. You can generally pick up your lift passes from the holiday rep on the evening of the day of your arrival. Additionally, the reps know their resorts and regions inside and out and will be pleased to help you find what you're looking for, be it good slopes, bars, restaurants, supermarkets, leisure activities, etc. Please check the included services information to see if there is a holiday rep available in your desired destination.

Holiday rep contact hours
Your holiday rep is your contact person throughout your holiday. The rep will do his/her utmost to offer you a relaxed and fantastic holiday. Every second day the rep will hold contact hours. He/she will answer your questions and will look after potential problems. All reps have a mobile which ensures that they can be reached in case of emergencies. You will get all this information at the latest upon arrival in the resort.
If you have a problem during your holiday, our holiday rep is at your disposal. Every effort will be made to resolve your complaint and to offer you a great holiday nevertheless.
Activities
Our in-resort holiday rep will offer you an attractive weekly programme. Participation in the programme is absolutely voluntary. If you are interested in a night of tobogganing or a great fondue evening in a mountain hut, don't hesitate to take part in our programme. All information regarding the weekly programme will be handed out the day of arrival.