The fun of a winter holiday depends on the choice of the right skiing area. But how do you find the perfect skiing area and how do I recognize the right skiing area? SnowTrex explains what to consider when making your choice and how a ski holiday can become a dream holiday. With the following questions and the ski resort finder we help you to choose the right ski area.
---
Choose the right ski area: the six "W"s
A good winter holiday stands and falls with the ski area. But finding the right ski area is not that easy. The choice is huge and every offer sounds tempting. However, too many decision possibilities can sometimes be a problem. Which ski area is better? Where does one have more snow? Where does the whole family feel comfortable? Do both beginners and advanced skiers get their money's worth?
This is exactly why it can be very helpful to clarify your own needs and priorities in the first step. Not only does this make it easier to choose the right ski area, it also makes it easier to find the area that best suits your needs.
One possibility is to create a kind of wish or priority list. You answer a number of questions in advance and at the end you see clearly what you expect from your skiing holiday.
Where do you want to go?
That's the first question that should be answered. Is there a region that you have always wanted to get to know? Do you have tips from friends and acquaintances and would like to use them as a guide? How far or long may the journey be? How expensive will the holiday possibly be? Do I also want to spend time in town or in the country off the slopes?
The choice of the region determines not only which ski resorts are available, but also what and how to pack: If you travel to Japan, for example, you will of course have to travel by plane. This also means that you have to pack more carefully and space-savingly than someone who travels to Austria for a winter holiday by car.
As much of the holiday planning depends on the destination, the selection of the country or winter sports region is the first step in choosing a suitable ski area.
When should the holiday take place?
The next important factor is the date. What is the weather like in the desired area at the planned travel time? A glance at the weather forecast for the past few years can help to better assess the chances of good skiing weather.
However, if you find that the weather is unlikely to be ideal during the planned holiday period, you can either adjust your choice of location or, if the weather is not the most important factor in the planning, choose a ski area that offers other sporting activities in addition to skiing.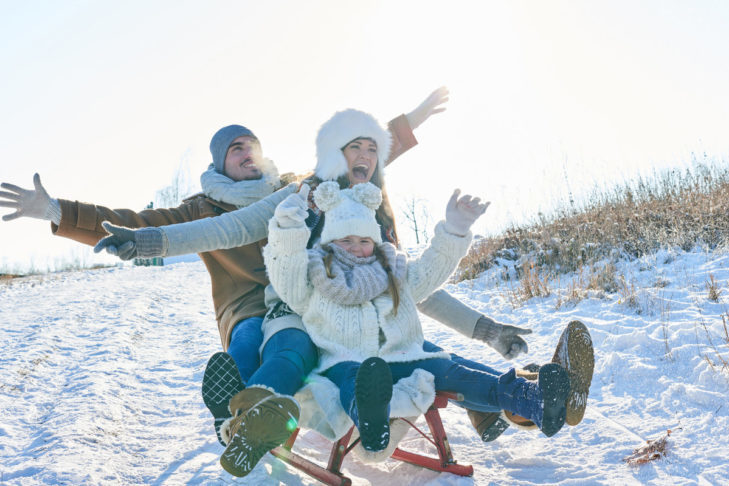 © Robert Kneschke/shutterstock.de
Which terrain is the most interesting?
While the exact location may not be so important for some, it may be that the terrain and the number of pistes or variations in the number of pistes are the most important factors when selecting a ski area. For example, those who love steep descents will prefer other ski areas than those who prefer fresh powder snow.
The choice of terrain may also determine what equipment you take with you. If you are planning many off-piste tours, you will need avalanche gear and other skis, for example. In addition, you should prepare for the tours accordingly.
However, one should not disregard one's own ability. Because the best black slopes in a ski area are of no use if you are a beginner and can't enjoy them at all or if you injure yourself in the process. Instead, a ski area with good beginners' courses and a larger selection of blue and red slopes might be more suitable. By the way: the usual piste markings do not have the same meaning in every country!
Who's coming with me?
Often, one does not ski alone, but with the whole family or friends. When choosing a ski area, the wishes of other people have to be taken into account.
This can also influence which ski area you ultimately choose. If you travel with your family, you will prefer a child-friendly ski area with appropriate supervision. For a skiing holiday with babies or toddlers, the duration of the trip may also play an important role in the choice of ski area.
On a romantic trip for two, you might want to treat yourself to a nice chalet, or you might want to spend more time at the spa. If you want a little more action, look out for fun parks or a wide range of après ski offers.
If you are travelling in a larger group, it is best to get together before the trip and talk about the different wishes and needs. This way, you can also find the right ski area for your group without anyone feeling disappointed or left out.
Which factors are the most important?
This is about the question of what one generally expects from a skiing holiday. Do you want to ski every day? Are you looking for entertainment for the whole family in addition to winter sports? Would you like to take advantage of a great spa offer? Or is a good après-ski offer an important aspect? How important is a good price-performance ratio?
The more precisely one knows what one actually expects from the holiday, the easier it is to choose a suitable ski area that fulfils exactly these expectations and even surpasses them.
What price are you willing to pay?
In addition to all the wishes you have, the price is of course also an important decision factor. Some ski areas are simply more expensive in general or exceed your own budget.
However, this does not mean that one has to be set back in one's desires. Slovenia or the Czech Republic, for example, also offer great ski resorts at lower prices, just like the Sauerland.
If the price of a whole winter holiday is simply not within your budget, you also have the option to spend the weekend in a nearby ski area. Germany also has many more beautiful ski areas than you might think, which are well-suited for a weekend trip or even a winter day trip.
Another saving tip: depending on the travel time, prices can fluctuate greatly. Book early and save with exclusive early booking discounts. If you are flexible in your travel date, you can, for example, travel cheaper outside the high season and not only save money, but also enjoy empty pistes.
Good planning prevents disappointment
These are many points to consider before choosing a ski area. This takes a little more time than a spontaneous start, but thorough planning also has many advantages: for example, you know exactly which equipment you can and should take with you. If you only notice this in resort, you can always rent the appropriate equipment. However, this is also associated with additional costs.
Good organisation also makes packing easier and faster. Those who know exactly where they are going also know what they need to take with them. A packing list is easily made which saves you from realising that you have not packed important things due to a lack of planning.
After all, planning also ensures a more relaxed holiday because if everyone knows which ski area to go to and why, there will be no disappointments or arguments when you arrive at the ski area. Instead, you will find here exactly what you expect.
With the large existing offer for winter sports fans, it is not so easy to find the right ski area. However, if you think carefully in advance about what you expect from your ski holiday, what you value and what budget is available, you will find the right ski area more quickly and ultimately have more fun on your winter holiday.
The most important questions about the perfect ski area
Why should you plan your choice of ski area so thoroughly?
Thorough planning is obviously not a must, but it helps to limit the wide choice and to travel to the ski area that best suits your needs. If you don't plan anything at all, you end up risking disappointment or even arguments. In addition, precise planning can save money.
Which factors play a role in the decision?
The right ski area means something different for every winter sports fan. However, the factors that you should take into account when making your choice are as follows: the winter sports region, the travel time, the budget, the people travelling with you and your own expectations and wishes. Your own ability should also not be overestimated.
What else should be taken into account when choosing the right ski area?
In addition, don't forget that there are the sometimes different ski run markings in different countries. France, Spain and the Scandinavian countries have slightly different markings compared to the other Alpine countries. Japan is largely oriented towards the European system. North America and New Zealand, on the other hand, have their own marking systems. It is therefore important to inform oneself in advance about the possible differences in the systems.
What must be taken into account when choosing for a group?
If you are going on a ski holiday with a larger group, you should definitely discuss your ideas and wishes before the holiday. This way, you can better plan your holiday together and avoid disappointments in resort.
What alternatives to skiing can I plan for my winter holiday?
More and more popular are "imported" sports, which actually come from summer sports and are adapted to the ski slopes. These include airboarding, snowbiking, kiteboarding, snow zorbing and ice diving.
What should you do if it turns out during planning that the budget for a holiday is too small?
There are several ways to save money when choosing a ski area. You can choose a less frequented ski area, go out of season or choose countries where a ski holiday is cheaper. Weekend trips or day trips to beautiful German ski areas are also a great alternative.