New Year Ski Holidays & Ski Deals New Years Eve 2018/2019
Spend New Year's in the snow - what a dream!
Celebrate the new year with a wintry backdrop - a ski holiday over New Year's is a special experience. Book your holiday now for New Year's 2018/2019 - unbeatable prices are already available for you. Despite quite a high demand, we are able to fulfil most new year's wishes! But those who book early have the largest selection of New Year's magic at low prices. Here you'll find a small selection of our New Year's holidays.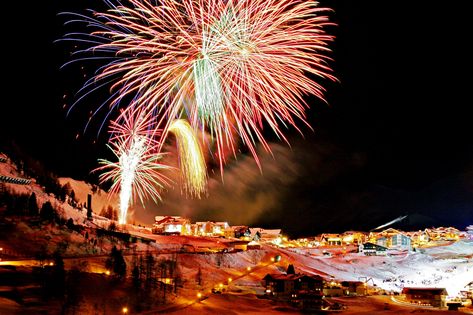 Why should you go on a ski holiday over New Year's Eve?
A ski holiday over New Year's Eve is convenient especially when it comes to the school holidays: A vacation over New Year's Eve is ideal for families that usually have to plan their holidays according to their children's days off school. Like this, there is nothing in the way of celebrating your New Year's Eve party with family and friends in the mountains!
Which ski areas offer the best reliability for snow?
One question that comes up for many skiers because of their experiences during their last holiday at the turn of the year is whether there is even enough snow in the ski areas when travelling over New Year's Eve. - The answer: Of course there is! Countless glacier ski areas in the Austrian Alps, such as Stubai Glacier or Pitztal Glacier, offer perfect conditions for skiing over New Year's. There is also nothing that can go wrong when planning your holiday in Ziller Valley: With the "Zillertaler Superskipass" you can choose from a large selection of pistes and ski areas. At least the ski area at Hintertux Glacier provides for ski holidays with guaranteed snow over New Year's Eve. On Schneeferner Glacier on the Zugspitze in Germany or in the "Matterhorn ski paradise" nearby Zermatt in Switzerland, lack of snow is also an unknown concept! However, not only ski areas with a glacier, such as e.g. Les 3 Vallées or Sölden, ensure ski holidays with a high reliability for snow: Also high-altitude ski areas like Chamonix in France or Ischgl in Austria usually have enough snow on New Year's Eve in order to care for a successful ski holiday.
Which activities or events are available in the ski areas on New Year's Eve?
Many resorts in the ski areas offer various activities, events and of course numerous New Year's Eve parties for the change of the year. In Zell am See in Austria, you can start the new year slowly with the Salzburg Philharmony's New Year's Eve concert, while Bruneck at Plan de Corones in Italy awaits you with a ski show including large fireworks and a great atmosphere. Those who want to party hard can go to the numerous parties with live music and fireworks in the resort centre of Innsbruck, the capital city of Tyrol. In Garmisch-Partenkirchen the new year is celebrated sportively with the traditional New Year's Ski Jump on the "Olympiaschanze".
What do you have to consider when booking your New Year's ski holidays?
Ski holidays on New Year's Eve are very popular amongst skiers, which is why you should book your preferred offer as early as possible. When planning your arrival it is important to consider the fact that the streets and motorways towards the Alps are usually relatively highly frequented in holiday times. This is why it is worth starting your journey early. Especially important for your holidays on New Year's Eve: Apart from the usual luggage you need on a ski holiday, do not forget to pack New Year rockets and fireworks!