Customer review
Italy
6,847 Number of reviews:
95 % Recommendation rate:
Ski holidays
Italy
Italy has it all: dazzling cliffs and famous World Cup slopes in the Dolomites as well as powder snow paradises like Livigno. Here, alpine hospitality and cosy mountain lodges are usually to be found in the South Tyrolean ski regions - and all that with a healthy dose of sunshine for free. Italy also offers a perfect combination of cuisine and sports! Further, the country has been recognized as a skiing destination worldwide when it was the host of the 1956 Winter Olympics (Cortina d'Ampezzo) and once again in 2006 (Turin).


Why book your ski holiday in Italy?
Welcome to "Bella Italia"! Italy is where "Dolce Vita" is not only a motto, but real life in this diverse country. Enjoying life with all its offerings and being happy – Italians truly love their country and its opportunities. In keeping with the motto, skiing and snowboarding is just as special a treat. "Vino", "Gelato", "Cappuccino", "Pizza"… Italian cuisine is certainly famous throughout the entire world, although their skiing is just as famous as their dishes! That's why you should never go to Italy in winter without considering to visit to one of the numerous, lovely ski resorts and while there, do make sure to taste the delicious food and wine before you pack up your skis.

"Lo Stivale," or "The Boot," has been used to describe the Italian Peninsula because of its boot-like shape, and offers paradises for adrenaline seekers as well as leisure skiers thanks to the large, wide pistes that are perfect for cruising and carving huge curves. Also, don't forget to bring sunscreen with you on your ski holiday – Italy is fortunate to be drenched in sun quite often - this might even be one reason for their radiating happiness. So, enjoy your day on the slopes with a great view in front of you, pleasant snow under your feet and the sun on your face.


Where to go skiing in Italy?
There are six amazing areas in Italy to choose from for your ski holiday. The largest connection of lift systems can be found in the Dolomites, which are part of the Southern Alps and are recognized for their beauty not just in Europe, but worldwide. The Dolomiti Superski region offers 1,200 km of piste and 460 lift systems accessible with just one lift ticket. The Dolomites are partly located in South Tyrol, Belluno and Trentino. South Tyrol is referred to the sunny side of the Alps, where skiers and snowboarders find true, sunny happiness. Next to the Dolomiti Superski with 12 connecting skiing areas founded in 1974 and its well-known ski areas of Sellaronda and Gardena Ronda, tourists can also enjoy smaller ski stations and numerous cosy lodges.

The Dolomites in Trentino are easily accessible from the Brenner motorway and offer some beautiful ski areas. The Lombardy province is really sporty, with Bormio being found here, where several World Ski Championships have already taken place. It is located in Lombardy's northernmost region of Sondrio. Furthermore, Italy's freeride and telemark capital, Livigno, is located in Sondrio just on the Swiss border. This city does not only claim pioneer status regarding avalanche safety in Italy, but is also a duty-free resort and shopping paradise as well as a great, affordable ski resort with a fantastic winter season event programme, providing the perfect place for ski holidays for everyone. You can also try out heliskiing in Livigno – the supreme discipline for great skiers and for those who can afford this unique luxury.

Heliskiing is also possible in Piedmont, which lies close to Turin near the French border. Here, skiers and snowboarders will find 1,365 km of piste. Turin hosted the 2006 Winter Olympics, with the snowboard competition having taken place in Bardonecchia, so snowboarders should be sure to not miss the slopes here!Another great place for skiing and snowboarding is the Aosta Valley, near the borders of Switzerland and France. You can spend your ski holiday without missing anything here as there are nice hotels, cosy ski lodges and a range of different restaurants and nightlife opportunities. Furthermore, some amazing skiing and slopes can be find in the province Belluno, located in Venice, a region that stretches from the Adriatic coast up to the Dolomites. Here, you can find one of the longest pistes in Europe, which offers 12 km of amazing pistes and pure joy starting at the famous Marmolada peak, of which is also a part of the Dolomiti Superski.


Are the Dolomites the most beautiful mountains in the world?
The Dolomites, part of the Southern Alps, are considered to be the most beautiful mountains in the world. Is that true? Perhaps... especially when you visit them on a sunny day, as fresh powder has just fallen, the white blankets twinkling in the sunlight, and the majestic scenery around you is glowing with shades of small clouds, providing that special feature to the mountainous landscape – you will simply have to decide for yourself! The Dolomites have been named a UNESCO World Heritage Site and remain so since 2009. Their highest peak is the above-mentioned Marmolada Peak, rising up to 3,342 m altitude.


What else can you do in your ski holiday in Italy?
There is a lot to do here during your ski holiday. The number one activity next so skiing and snowboarding is cross-country skiing. There are lots of amazing trails for all levels, from beginners to experts, and long trails consisting of above-average lengths. The best area for cross-country skiing is Alta Pusteria. These trails are part of Europe's largest cross-country carousel, the "Dolomiti Nordicski" network, which consists of more than 1,300 km of trails in 13 areas. Further activities include snowshoe hiking, hang gliding, paragliding or even ice-climbing or horse sledging.
Regions Italy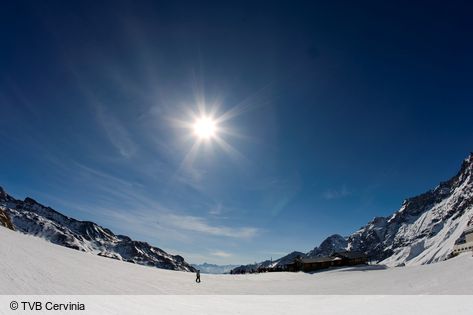 Aosta Valley
The Aosta Valley is located near the borders of Italy to Switzerland and to France. The like-named town of Aosta has a middle-sized population of approx. 35,000 residents. Because of this, visitors will find everything they need in this pretty ski resort – from hotels to ski lodges to Restaurants and discos. Not only the city attracts visitors with its plentiful activities, the area itself draws crowds with its breathtaking natural beauty and awesome runs.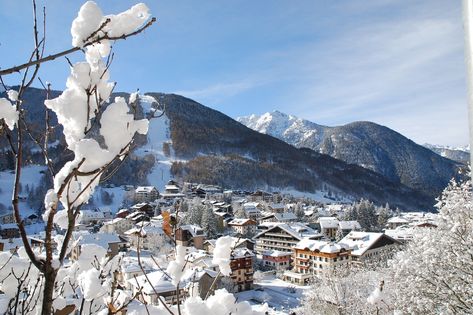 Lombardy
Lombardy offers, in its northern-most region Sondrio, an especially sporty ski area. On one side there is Bormio, the site of several World Ski Championships, and on the other side Livigno a duty and tax free mountain valley on the Swiss border. There is a total of over 400 kilometres of piste available here!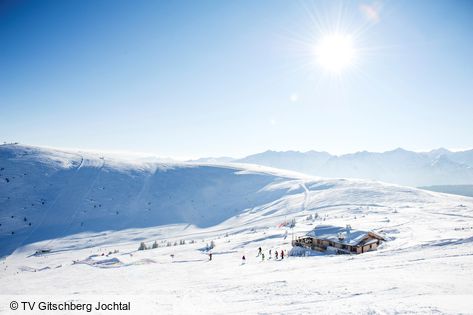 Piedmont
Situated near to the French boarder and Turin, Piedmont offers loads of action with over 1,365 kilometres of piste and activities such as heli-skiing, canyoning or hang-gliding! Well-known towns here are Bardonecchia, Sestriére or even Limone Piedmont. Snowboarders will find Olympic approved pistes, as the snowboard competition for the Turin Olympic Winter Games 2006 were held in Bardonecchia!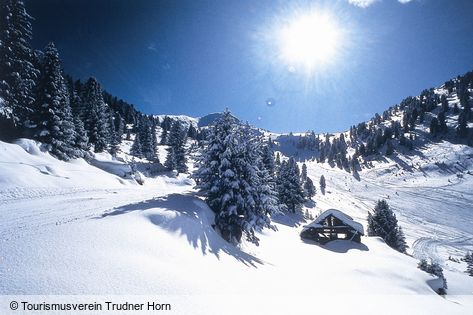 South Tyrol
The region of South Tyrol is located on the sunny side of the Alpes and gets its snow from the Genoa-low. Here winter sports fans will find much sun, good food and depending on preference everything from smaller ski stations with groomed pistes to the incredible Dolomiti Superski area.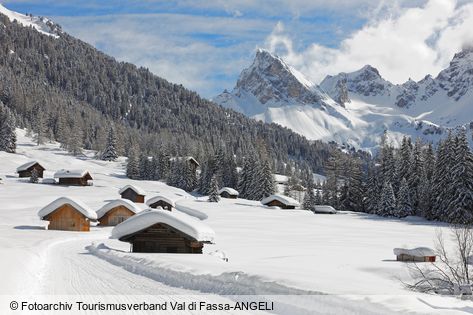 Trentino
West of the Adige and easily accessible from the Brenner motorway in the Brenta and Presanella areas lie some well-known winter sports regions. Among them are the town of Madonna di Campiglio, Fassa and Fleims Valley with the most famous Dolimite peak and connections to the famous Sella Ronda, a day-trip ski trail that encircles the Sella Massif.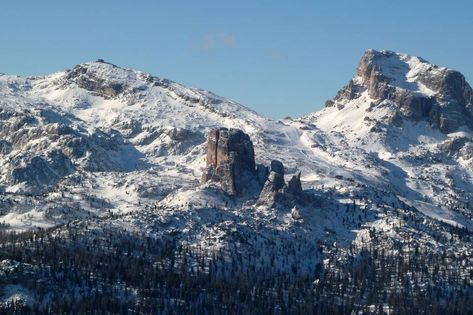 Venezia
The region Venezia stretches from the Adriatic coast, through the Venetian pre-Alps to the Dolomites. The province Belluno has the largest number of ski areas with first-class slopes, like for example Cortina d'Ampezzo, which has several mountains that are at least 3,000 m high. The famous peak Marmolada is located here too, which has one of the longest pistes in Europe, at 12 km length! Numerous winter sports and free-ride areas ensure pure action.
Resorts Italy
Resort (region)
Pistes
Ski area altitude


from

–

up to

34 km
1,030 - 2,125 m
120 km
973 - 2,275 m
50 km
1,162 - 2,270 m
63 km
1,446 - 3,269 m
100 km
1,300 - 2,694 m
50 km
1,225 - 3,012 m
98 km
1,067 - 2,510 m
120 km
973 - 2,275 m
110 km
1,200 - 2,625 m
78 km
950 - 2,510 m
110 km
1,200 - 2,625 m
178 km
1,236 - 2,518 m
28 km
1,200 - 1,880 m
111 km
860 - 2,388 m
150 km
1,524 - 3,883 m
205 km
702 - 3,275 m
120 km
973 - 2,275 m
120 km
1,224 - 2,924 m
130 km
1,324 - 2,550 m
42 km
1,205 - 2,755 m
63 km
1,300 - 2,180 m
116 km
1,130 - 2,200 m
34 km
1,030 - 2,125 m
95 km
1,190 - 2,513 m
178 km
1,236 - 2,518 m
100 km
1,238 - 1,824 m
63 km
1,300 - 2,180 m
205 km
702 - 3,275 m
111 km
860 - 2,388 m
100 km
1,174 - 1,600 m
115 km
1,816 - 2,798 m
60 km
852 - 2,580 m
63 km
1,446 - 3,269 m
10 km
1,750 - 2,500 m
63 km
1,300 - 2,180 m
42 km
2,011 - 3,212 m
63 km
1,300 - 2,180 m
120 km
1,224 - 2,924 m
95 km
1,190 - 2,513 m
78 km
950 - 2,510 m
34 km
1,030 - 2,125 m
120 km
973 - 2,275 m
19 km
1,184 - 2,090 m
42 km
2,011 - 3,212 m
111 km
860 - 2,388 m
178 km
1,236 - 2,518 m
62 km
1,121 - 3,016 m
20 km
1,400 - 3,000 m
32 km
800 - 2,100 m
110 km
1,200 - 2,625 m
44 km
1,900 - 3,250 m
111 km
860 - 2,388 m
63 km
948 - 2,120 m
120 km
973 - 2,275 m
20 km
948 - 2,120 m
98 km
1,067 - 2,510 m
120 km
973 - 2,275 m
116 km
1,130 - 2,200 m
78 km
950 - 2,510 m
60 km
1,404 - 2,357 m
120 km
973 - 2,275 m
35 km
1,722 - 2,880 m
178 km
1,236 - 2,518 m
400 km
1,372 - 2,789 m
80 km
1,000 - 2,100 m
178 km
1,236 - 2,518 m
116 km
1,130 - 2,200 m
400 km
1,372 - 2,789 m
178 km
1,236 - 2,518 m
10 km
1,750 - 2,520 m
44 km
1,900 - 3,250 m
44 km
1,900 - 3,250 m
111 km
860 - 2,388 m
120 km
973 - 2,275 m
98 km
1,067 - 2,510 m
42 km
2,011 - 3,212 m
110 km
1,200 - 2,625 m
20 km
948 - 2,120 m
111 km
860 - 2,388 m
80 km
1,000 - 2,100 m