Ski holidays
Slovenia

: Snow up your life!

Slovenia lies in the heart of Europe and borders with Italy in the west, with Austria in the north, with Hungary in the east and with Croatia in the south. The entire country offers 20,273 km² of terrain and is therefore one of the smallest European countries - yet unbelievably diverse. Picturesque river landscapes, vast forests, rough rocky plains, soft hills and the steep peaks of the Eastern Alps all belong to Slovenia's marvellous nature. A third of the country is covered as nature reserve. Whilst the climate in the south and on the Mediterranean coast are milder, the hilly north benefits from cooler and dryer air, but gets more precipitation, which is ideal for the winter sports regions. The capital is Ljubliana with 278,000 inhabitants and is located quite centrally in the country and therefore offers perfect access to all surrounding holiday regions.
Regions Slovenia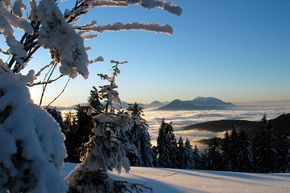 Lower Styria (Slovenia)
Lower Styria (slov. Štajerska) is one of five historic landscapes in Slovenia and one of the most important cultural and natural landscapes in the north of the country. Up until the beginning of the 20th century it was part of the dukedom Styria, which has made an impact on the locals through the Austrian and German-speaking influences. The 6,050 km² large terrain between the large rivers Mur and Save form a diverse natural habitat with vast lowlands and soft hills, but also mountain ranges which reach up to 2,300 m altitude. A large part of the Lower Styria region are made up of the Steiner Alps, which belong to the Karawanks. The most important urban zones here are Maribor, Celje, Velenje and Ptuj, which all offer easy access to a local ski area - above all the largest in Slovenia, which is called Pohorje. The magnificent Slovenian-Austria border region of Lower Styria offers winter holiday makers an ideal mixture of natural experience and activities in the mountains, as well as some very pretty cities which are worth visiting, such as the lively town of Maribor.