Ski holidays in
Austria

: Snow up your life!

Perfectly prepared pistes, deep snow slopes and great snow-sure skiing on the glaciers: you are sure to get your money's worth in the winter sports paradise of Austria! Whether on skis or snowboard, beginner or professional, you are guaranteed pure winter fun while on your Austrian ski holiday. Austria is known as the number one Après-ski location and can boast with the ultimate party hotspots.

Regions in Austria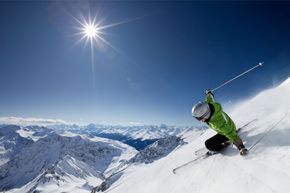 Tyrol
Austria's "ski heart" beats quite audibly between Arlberg and the Kitzbüheler Alps: it is clear why Tyrol is called the "heart of the Alps". There you will find well-known "celebrities" like Kitzbühel, Ischgl, Sölden or St. Anton.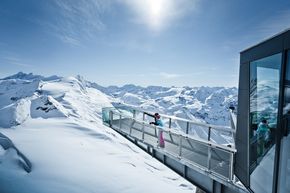 Salzburger Land
In addition to the Salzburg Sports World, you'll find the holiday region Zell am See/Kaprun, and the 3,000 m high Kitzsteinhorn with its own glacier.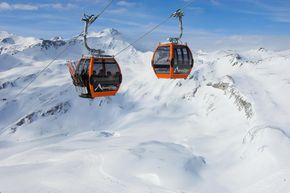 Carinthia
Carinthia doesn't just offer sun-spoilt, excellently prepared pistes, but is also ideal for excursions off the slopes. With over 200 lakes, Carinthia is a perfect starting point for winter hikes, cross-country tours and ice skating. With famous ski areas such as Nassfeld, Bad Kleinkirchheim, Mölltaler Gletscher and Heiligenblut, Austria's southern-most state leaves no wish unfulfilled.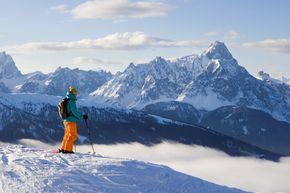 Eastern Tyrol
East Tyrol is the sun richest region of Austria, in which the typical hospitality and many snow sure pistes as well as very long cross-country trails and winter hikes between the Hohe Tauern national park and the peaks of the Lienzer Dolomites awaits you.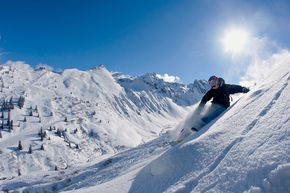 Vorarlberg
Vorarlberg amazes with its little traditional villages and a wonderful landscape. The ski areas Montafon and the legendary resorts Lech and Zürs lay at snow sure altitudes and provide you with a perfect view on an untouched mountain world.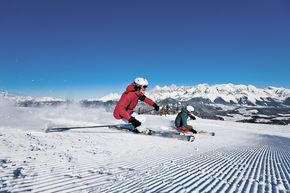 Styria
Styria, with its well-known ski areas Schladming and Dachstein-Tauern offer great world-class runs and resorts distinguished by tranquillity and cosiness.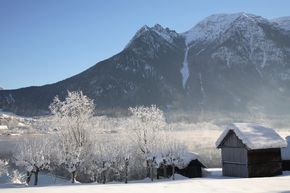 Upper Austria
In the fourth-largest federal state of Austria you can enjoy a diverse sports and leisure programme, wonderful lakes embedded in beautiful landscapes and seven attractive ski areas for the whole family, from the Bohemian Forest in the north, to the southern Salzkammergut.
Resorts in Austria
Resort (region)
Pistes
Ski area altitude


from

–

up to

Lift pass
Nights
from
142 km
443 - 1,620 m

coming soon

27 km
950 - 1,800 m

coming soon

42 km
1,000 - 1,911 m

coming soon

93 km
600 - 2,025 m

coming soon

240 km
619 - 2,188 m
3-7
£ 225
142 km
443 - 1,620 m
3-8
£ 99
77 km
560 - 2,378 m
5-10
£ 216
40 km
850 - 2,090 m

coming soon

30 km
1,580 - 2,340 m

coming soon

186 km
860 - 2,686 m
3-10
£ 162
142 km
443 - 1,620 m

coming soon

280 km
620 - 1,957 m
3-7
£ 183
186 km
860 - 2,686 m
3-10
£ 175
103 km
1,001 - 2,055 m

coming soon

42 km
812 - 1,965 m

coming soon

25.5 km
650 - 2,110 m
3
£ 116
36 km
1,067 - 1,750 m

coming soon

9 km
1,000 - 1,800 m
3-7
£ 200
42 km
1,000 - 1,911 m

coming soon

6 km
421 - 1,064 m

coming soon

93 km
830 - 2,025 m
4-10
£ 227
280 km
620 - 1,957 m
3-10
£ 175
138 km
750 - 3,029 m
3-10
£ 183
94 km
550 - 2,500 m

coming soon

109 km
1,400 - 2,007 m
3-7
£ 103
55 km
1,301 - 2,902 m
7
£ 316
71.5 km
860 - 2,033 m
3-10
£ 158
15 km
660 - 1,100 m

coming soon

27.5 km
1,112 - 1,925 m

coming soon

280 km
620 - 1,957 m
3-10
£ 233
33 km
910 - 3,108 m
7
£ 464
270 km
830 - 2,096 m
3-10
£ 191
240 km
619 - 2,188 m
5-10
£ 463
196 km
630 - 3,250 m
3-7
£ 308
240 km
619 - 2,188 m
3-10
£ 124
71 km
1,200 - 3,122 m

coming soon

22 km
780 - 2,212 m
7
£ 381
347 km
1,304 - 2,811 m
7
£ 467
94 km
560 - 2,378 m
3-10
£ 133
19 km
1,000 - 2,240 m
4-10
£ 355
138 km
750 - 3,029 m
3-10
£ 175
40 km
1,600 - 2,300 m

coming soon

143 km
580 - 2,500 m

coming soon

280 km
620 - 1,957 m
3-10
£ 183
142 km
443 - 1,620 m

coming soon

142 km
443 - 1,620 m
5-7
£ 564
16 km
920 - 1,800 m
3-7
£ 158
122 km
726 - 2,015 m

coming soon

71.5 km
860 - 2,033 m

coming soon

142 km
443 - 1,620 m

coming soon

55 km
1,301 - 2,902 m
3-7
£ 233
36 km
1,067 - 1,750 m

coming soon

270 km
830 - 2,096 m
3-10
£ 282
136 km
630 - 2,500 m
3-10
£ 144
77 km
560 - 2,378 m
5
£ 450
12 km
1,250 - 1,750 m

coming soon

280 km
620 - 1,957 m
7-8
£ 467
240 km
619 - 2,188 m
3-7
£ 183
18 km
900 - 2,250 m
5-7
£ 383
23 km
950 - 2,304 m
3-7
£ 191
238 km
1,377 - 2,872 m
3-8
£ 225
280 km
620 - 1,957 m
5-7
£ 258
40 km
1,450 - 2,450 m

coming soon

173 km
800 - 2,000 m

coming soon

37 km
920 - 2,621 m

coming soon

77 km
560 - 2,378 m
3-10
£ 175
40 km
1,175 - 2,700 m

coming soon

138 km
750 - 3,029 m
3-10
£ 208
190 km
1,000 - 2,400 m

coming soon

173 km
800 - 2,000 m
3-10
£ 258
280 km
620 - 1,957 m

coming soon

110 km
640 - 1,860 m

coming soon

173 km
800 - 2,000 m
3-10
£ 183
23 km
950 - 2,304 m

coming soon

45 km
476 - 1,690 m
4-7
£ 175
110 km
610 - 2,200 m
3-7
£ 98
93 km
600 - 2,025 m

coming soon

143 km
580 - 2,500 m
3-10
£ 191
280 km
620 - 1,957 m

coming soon

22 km
780 - 2,212 m

coming soon

144 km
1,350 - 3,340 m

coming soon

270 km
830 - 2,096 m
3-10
£ 219
37 km
668 - 2,278 m

coming soon

46 km
639 - 1,747 m
7
£ 509
12.5 km
1,267 - 2,636 m
2-7
£ 133
112 km
800 - 1,900 m
3-10
£ 175
37 km
920 - 2,621 m

coming soon

14 km
860 - 1,840 m

coming soon

136 km
630 - 2,500 m
3-10
£ 266
55 km
1,301 - 2,902 m

coming soon

112 km
800 - 2,000 m

coming soon

94 km
560 - 2,378 m

coming soon

110 km
610 - 2,200 m

coming soon

122 km
1,400 - 2,850 m

coming soon

62 km
820 - 2,150 m

coming soon

43 km
1,750 - 3,210 m

coming soon

93 km
830 - 2,025 m
7
£ 325
93 km
830 - 2,025 m
3-10
£ 175
110 km
1,800 - 3,080 m

coming soon

110 km
640 - 1,860 m

coming soon

17 km
820 - 2,000 m

coming soon

100 km
1,630 - 2,313 m

coming soon

80 km
1,410 - 2,520 m

coming soon

42 km
1,000 - 1,911 m

coming soon

173 km
800 - 2,000 m

coming soon

14 km
540 - 1,500 m

coming soon

37 km
933 - 2,621 m
7
£ 208
29 km
1,100 - 2,700 m

coming soon

32 km
940 - 2,175 m
7
£ 275
93 km
600 - 2,025 m

coming soon

16 km
853 - 1,900 m

coming soon

111 km
820 - 2,224 m

coming soon

270 km
830 - 2,096 m
3-10
£ 275
270 km
830 - 2,096 m

coming soon

80 km
1,400 - 2,520 m
4-7
£ 260
280 km
620 - 1,957 m

coming soon

233 km
745 - 2,700 m
3-10
£ 166
94 km
560 - 2,378 m
5-8
£ 258
45 km
476 - 1,690 m

coming soon

25 km
550 - 2,142 m

coming soon

37 km
964 - 2,064 m

coming soon

41 km
1,040 - 2,456 m

coming soon

196 km
1,200 - 2,820 m
4-7
£ 311
22 km
1,103 - 2,407 m

coming soon

144 km
1,350 - 3,340 m
3-10
£ 175
280 km
620 - 1,957 m
3-10
£ 191
94 km
560 - 2,378 m

coming soon

347 km
1,304 - 2,811 m
3-10
£ 233
115 km
700 - 2,430 m
7-10
£ 503
17 km
1,400 - 2,525 m

coming soon

240 km
619 - 2,188 m

coming soon

110 km
640 - 1,860 m

coming soon

41 km
1,740 - 3,440 m
2-7
£ 91
13 km
1,430 - 2,248 m

coming soon

150 km
1,000 - 2,400 m
3
£ 175
94 km
560 - 2,378 m
3-4
£ 233
347 km
1,304 - 2,811 m

coming soon

13 km
990 - 1,340 m

coming soon

23 km
950 - 2,304 m

coming soon

4 km
852 - 1,077 m

coming soon

42 km
1,000 - 1,911 m

coming soon

169 km
630 - 3,250 m

coming soon

11 km
1,000 - 1,600 m

coming soon

15 km
1,890 - 2,680 m

coming soon

240 km
619 - 2,188 m

coming soon

110 km
640 - 1,860 m

coming soon

15 km
660 - 1,100 m
7
£ 175
143 km
580 - 2,500 m

coming soon

40 km
1,450 - 2,450 m
3-7
£ 124
280 km
620 - 1,957 m

coming soon

55 km
1,301 - 2,902 m

coming soon

7 km
560 - 1,522 m

coming soon

22 km
780 - 2,212 m

coming soon

138 km
750 - 3,029 m
3-10
£ 141
143 km
580 - 2,500 m
3-10
£ 275