Customer review
USA
5 Number of reviews:
100 % Recommendation rate:
Ski holidays
USA
Champagne powder, steep slopes, runs through thick woods… In the winter sports paradise of the U.S.A., everyone gets their money's worth. Whether on one board or two, beginner or expert – pure winter fun is guaranteed on this ski holiday. In the snow-sure regions of the U.S.A., some magnificent ski areas have been created. From the extraordinary celebrity hotspot to a rustic-romantic mountain village, there is surely something for everyone here.


Why book your ski holidays in the USA?
Why travel all the way across the ocean to the States just to go skiing when the Alps are right in front of us? That's a sound question, but there are several reasons that justify a ski holiday in the States, even if it is a long way travelling from Europe. First, let's talk about the snow. Utah claims to be the home of the "Greatest Snow on Earth," which can even be found written on the state license plate, proudly displayed on locals' cars. As a matter of fact, the snow is pretty fantastic! You can find dry, light and fluffy powder snow and you'll notice that it snows a lot, especially in the Rocky Mountains. This type of snow is called cold smoke or champagne powder, and it causes less avalanches because of its dryness – meaning it is unable to bind. However, this is still a quite uncommon experience, as this can only happen when temperatures are very low and when there is no wind at all. Additionally, the off-piste terrain along the slopes also belongs to the domain of the ski area - not just the groomed pistes! In the U.S., the definition of a ski resort includes the off-piste terrain as well, which is contrary to European standards! This way, you can safely ski and snowboard between the trees and cliffs – it's all possible!

Skiing along both the groomed pistes and natural terrain can be provide a satisfying feeling of freedom! Tree skiing is not allowed in the Alps, but in the States, not only is it possible, but it's a real highlight in North America. The slopes between the trees are prepared in summer to expand the experience in winter. Another highlight is Catskiing: Catskiing operators bring you to secret spots and the first powder lines. Some day trips are not too expensive. Also, the pistes are mostly uncrowded and offer a lot of space for high speed and huge curves. If you are an expert skier or snowboarder, you will love the access to extreme terrain and double black diamond runs. What an adrenaline rush! Another reason to go are the people and their relaxed, friendly atmosphere. "Easy-going" is the theme here – whether you're on the slopes, in the waiting queue or during après ski. The people in the U.S. show how much fun they have on their ski holiday and are bursting with life. People here are also very service-oriented, helpful and very friendly.


Where to go skiing in the USA?
In the land of endless possibilities, there are also endless skiing and snowboarding possibilities. The best states to spend your ski holidays in are Utah and Colorado. The Mormon state Utah has it all, including very easily accessible ski resorts! The gateway to a dozen ski areas that can be reached within a short amount of time is the capital city of Salt Lake City. Salt Lake City International Airport can be reached from many European cities via direct flights. Utah is not only the home of the "Greatest Snow on Earth," but also receives almost double the amount of snow compared to other ski areas in the US It's quite deep!

Salt Lake City was the host of the 2002 Winter Olympics in combination with Park City, which is home to the largest interconnected ski area in the United States since 2015. Park City is only a short, 20 minute ride from Salt Lake City and is the place to stay in order to have access to some amazing ski resorts, some of which being the luxurious Deer Valley or powder-paradise Snowbird, and the skiers-only resort of Alta as well as the Park City Mountain resort itself. The former mining city was a ghost town until skiing recently brought it back to life. The historic Park City Main Street is accessible with your skis from the Park City Mountain Resort and is a great place for events, dinner and some nice après ski locations – like the famous No Name Saloon & Grill or the High West Distillery & Saloon. Each night in winter, the Main Street transforms into a party street. Recently, Park City and The Canyons joined together, resulting in the largest ski resort in the US with 27 km² of pistes to enjoy.

Colorado might be the most popular state for ski holidays in the States, as the most well-known ski areas are located in there. Plenty of sunshine, great snow and peaks reaching over 4,000 m high as well as large ski areas and modern lift systems make it a superb ski holiday destination. One of the most popular areas is Vail – especially after having hosted the 2015 FIS Alpine World Ski Championships with Beaver Creek. Vail and Beaver Creek both offer great skiing and even greater service. Lots of celebrities spend their ski holidays in Vail, so be aware that you might meet stars such as Clint Eastwood, who has a residence in Beaver Creek. The "Colorado Ticket" grants skiers and snowboarders access to the ski areas of Vail, Beaver Creek, Breckenridge, Keystone and the Arapahoe Basin, for a total of 772 km of piste and 117 lifts.

Another great, modern resort is Copper Mountain in Summit County, which is not yet well-known among tourists. The three villages of East Village, Copper Village and Union Creek are located in Copper Mountain, where tourists can find any accommodation they are looking for, from cosy mountain lodges to luxurious hotel rooms. Also, parties and restaurants are sure to be found at Copper Mountain.

A first-class ski holiday can be experienced in the Victorian-style town of Breckenridge with its lovely resort centre and main street with numerous shops and charming restaurants. However, the most important aspect of this town are the many, many pistes to be found: 123 km of well-prepared pistes and great tree skiing terrain await enthusiastic skiers. The ski area expands between 2,908 m – 3,914 m altitude and is therefore very snow sure. With the "Summit Ticket," it's possible to ski along 639 km of piste and 111 lifts in Breckenridge, Keystone and the Arapahoe Basin as well as spend half days in Vail and Beaver Creek. Additionally, with the "Winter Park & Copper Mountain" lift pass, 108 km of piste at Copper Mountain and 122 km of piste in Winter Park are accessible. Moreover, Winter Park, located in Grand County in North Central Colorado, is also known for its terrain composed of beautiful natural landscapes and steep runs for experts.


What else can you do on your ski holiday in the USA?
Take your time! During your ski holiday in the States, you will be happy to have some extra time for activities. One amazing activity tourists can take part in is a visit to the nearby national parks even in winter! The national parks in Utah and Colorado are simply breathtaking, so if you have some time during your ski holiday, it is absolutely worth it to take a day trip (or longer!) to visit the some of them and take in their spectacular landscapes and natural beauty. Another interesting highlight could also be a stopover on your way in to one of the fascinating metropolises like Chicago or New York.
Regions USA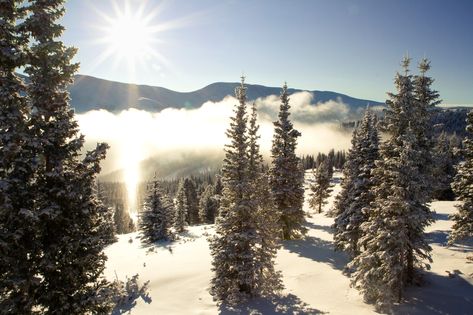 Colorado
The largest and most well-known ski areas in North America are found in Colorado. Skiing at 4,000 m above sea level – no problem in Colorado. With 300 days of sun per year and an average snowfall of over 8.5 m, skiing becomes a true experience. Thanks to the large ski areas and fast lifts, waiting times at the lifts is short or there is hardly any crowding on the slopes.
Resorts USA
Resort (region)
Pistes
Ski area altitude


from

–

up to

234 km
2,457 - 3,433 m
143 km
2,743 - 3,676 m